20,000 Leagues Under Original Engraving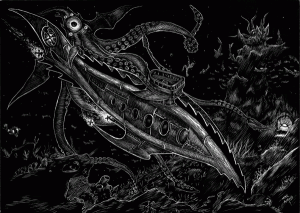 5x7 inch engrving on ampersand clayboard, framed in a solid wood frame hand-crafted by Myke Amend, total size Framed: 8x11.
This fine engraving depicts a rather Lovecraftian creature of the deep embracing a submersible craft, much like the Nautilus of Jules Verne's 20,000 Leagues Under the Sea.
Atop the oceanic mountain in the far background rests an ancient and forgotten temple, marked at its entrance by the sigil of Dagon.
Though small, these engravings are so incredibly detailed, that no web image could ever do them justice. Rest assured, this is a very fine piece of work, and very skillfully crafted.Properly matted and framed, it would make an excellent addition to any space.
These engravings are done on archival claybord - a thick, tempered archival hardboard layered with archival white clay and india ink, all acid-free. The archival rating on these pieces is 200+ years.
Updating...