Airships and Tentacles Tattoo Flash Original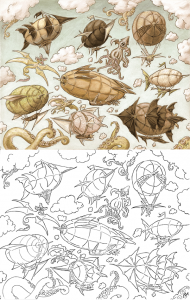 A sampling of simplified airships from my paintings (as well as some exclusive to this sheet).
This is the original sheet, and is 14x11 inches - on Bristol Board, lined with rapidograph, colored with colored pencils.
It also comes with one same-sized black and white/lineart sheet.
Updating...