Dead Sea giclee on fine art rag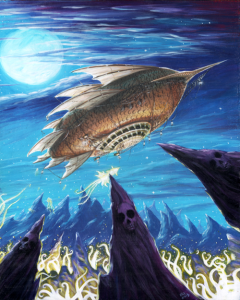 Edition size: 20
From a commissioned piece, wherein I was asked to do something super-colorful, detailed, and small.
Rather than leaning towards abstract, I went the more impressionistic route; In order to get my usual amount of detail into such a tiny package, I took to painstakingly painting ropes and sail-stitches with a single hair, details so tiny they cannot be seen in a web-resolution image.
Ghostly vampire squid, jellyfish, and other deep-sea denizens swim through the air, fading away into the distant stars.
These are printed on 200 year archival fine art rag paper in archival pigment inks, at the same size as the original (8x10 inches) and hand-signed and dated by Myke Amend.
Border size is approximately 1/2 inch to bring it to 8.5x11 inch for easy framing.
Each is signed, dated, and numbered.
Updating...