I Have A Special Plan for this World Original Engraving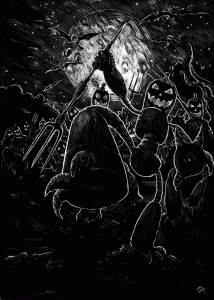 This engraving was done as the cover for issue #8 of the GateHouse Gazette. It is 5x7 inches on Ampersand Art Clayboard Black. Framed in a solid wood frame hand-crafted by Myke Amend, total size Framed: 8x11.
Though small, these engravings are so incredibly detailed, that no web image could ever do them justice. Rest assured, this is a very fine piece of work, and very skillfully crafted.
These engravings are done on archival clayboard - a thick, tempered archival hardboard layered with archival white clay and india ink, all PH neutral.
Updating...