Rebirth – Five Flowing Firebirds – Limited Giclee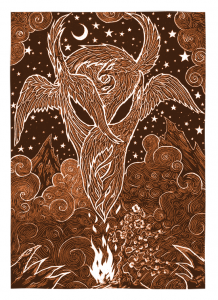 Each of these 20 prints can be printed in a color requested by the buyer, making each of these all the more unique. Each is signed, dated, and numbered by the artist (me).
The original was engraved in Clayboard (A thick slab of tempered hardboard, coated in white clay, coated in India Ink).
It depicts Firebirds sparking from a mountaintop brushfire, against a background of swirling stylized clouds, mountains, and swirling clouds - packed with fine details, like most of my works - filled with hidden and interesting  things waiting to be found, to keep it the work every day.
Print Size: 11x14 inches.
Printed Area: 9x12 inches.
Updating...