Same Deep Water as You Limited Edition Giclee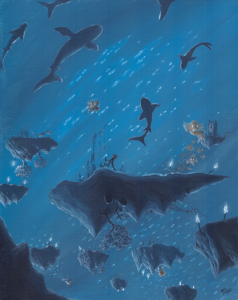 From the original acrylic on birch panel, painted mainly in shades of deep blue with touches of orange.
This is from one of my larger Micro Paintings (a large painting packed into a compact space through really dense and tiny detail).
The size of the original is 8x10 inches, these are printed on archival fine art paper at 9x12 inches with a 1 inch border all around (total size 11x14 inches). They are hand-signed and numbered (1 to 20)
Updating...