See Monkeys 11×14 Limited Edition Giclee on Fine Art Rag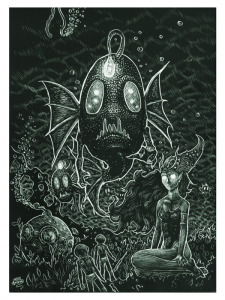 "I believe they may be intelligent lifeforms of some sort... or at least they show some signs of intelligence. Note the craftsmanship, the artful beauty, the symmetry... It is a wonder they put so much care into the packaging of mere food. That it can reach us from the surface in such excellent condition, still fresh and living, is indeed impressive. I look forward to the time when they finally make contact. I am already, most certainly, impressed by their offerings"
- Enkielle, priestess of Dagon
Watermarks do not appear on actual print.
Printed at roughly 12x9 inches in archival inks on fine art rag paper with a one-inch border all-around (making the print 14x11 inches).
Signed, numbered, and dated by the artist lightly within the margin. There is a limited run of 25 giclees.
Updating...