Shadow Mist and Stone 24×24 inch Limited Signed Giclee on fine art paper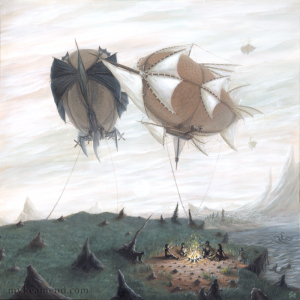 The full size of the original painting, only 20 of these will be printed.
This is the last painting in the strange-fiction steampunk art series "Airships and Tentacles" wherein the works of, concepts of, and influences from Jules Verne and H.P. Lovecraft intermingle.
The image was commissioned for David Ross, and it includes two aitships anchored above a comfy Torry Pines picnic spot. Ghostly figures twist and turn within the mists, clouds, stony peaks, rocks, and grass - while mythical creatures swim in the waters below.
Updating...