Smiley Bot 7 x 10 Limited Edition on Fine Art Rag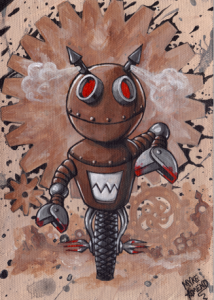 Limited Run of 20. Printed area is 7x10 with a 1 inch border all around (making it 9x12). It is printed on heavy 200 year archival fine art rag paper in pigment inks; Signed, dated, and numbered by Myke Amend.
One of three really tiny paintings I did to pass the time for a smiley-themed set.
That collection is still building.
These pieces are more whimsical, for fun pieces which I may someday make little rhymes for and assemble into a book, despite that I have been urged to never, ever, rhyme again.
Updating...