Spirit Original Engraving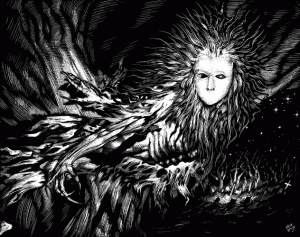 8.5x11 inches
I did a number of these engravings as a set, partially as a practice run at intaglio.
They were done on Ampersand Art clayboard: an archival tempered hardboard surface coated in white clay and India ink, with an archival rating of hundreds of years.
This is one of the earlier ones, depicting a projection of self, or sometimes invisible friend, from my early childhood - my shadow self, an incarnation of anger toward humanity, distaste for being human, and my love for the forest and nature in general.
Updating...