Steampunk Alice in Wonderland Limited Edition Giclee Cheshire Cat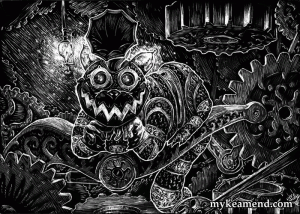 Limited Edition of 25
Watermarks do not appear on actual print.
Print is 8.5x11 (printed at roughly 9x6.5 inches in archival inks on fine art rag paper with a one-inch border all-around). Signed, numbered, and dated by the artist lightly within the margin.
A clockwork mechanical cat rests in classic pose upon a rocker arm in a clocktower amidst turning gears and moving pistons. Inspired by the Cheshire cat of Alice in Wonderland, this is a very, very finely detailed piece, down to the ornamental plates of metal and intricately decorated gears. Slightly larger than the original 5x7 engraving to better showcase the extensive detail within this work.
Updating...