The Harvest Limited Edition Giclee on Fine Art Rag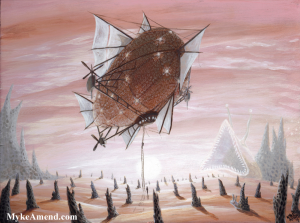 Limited edition of 10.
Traders harvest chips of brilliant and shimmering  rock from outwardly dull-colored standing stones in a seemingly desolate place.
This piece was done as a promotion for Hendrick's Gin and you can read about it at their Unusual Times Blog if you are over 21.
Printed at 600DPI at the size of the original painting (9x12 inches) with a white border, on archival acid-free fine art paper, in archival pigment inks - spray-coated with a matte finish for added resiliency and UV protection.
Each of these only 10 prints, is hand-signed and numbered by Myke Amend. To make them even more rare, and each a unique work of art, prints will be hand-embellished (little added details painted on in acrylic paint) to set them apart as original works.
Updating...