The Magic Hut Limited 11×14 Giclee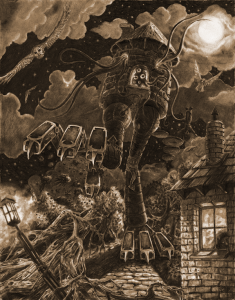 This giclee print is the same size as the original which was drawn on acid-free 11x14 inch bristol board in graphite pencil, with an additional 1-inch border all-around to make for easy mounting and to display the beauty of the paper
Printed as a giclee for the truest match in color and detail to the original as possible. They are printed on acid-free heavyweight fine art paper in archival pigment inks for an archival life of 180+ years.
It depicts a strange hut crashing out of the forest and into a sleeping village. Owls circle, tentacles flail and grab, huge metallic legs crush trees and rip the earth below.
20 of these will be printed. Each is hand-signed, numbered, and dated in pencil unobtrusively just within the margin.
Updating...