The Mighty Bloop 24×12 inch signed limited Giclee on Canvas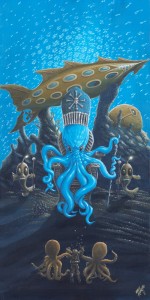 The original was Painted at 12x24 inches in acrylic on tempered hardboard backed with birch, and these giclee prints, printed in archival quality pigment inks on fine woven canvas, uv protected, hand signed and numbered are the perfect representation in color and feel.
Only 10 giclees on canvas are available, and yours will be numbered 1 through 10. These limited edition ones are hand-signed, hand-dated, and hand embellished (new figures/details painted onto the giclee to make them each a unique work of art).
Updating...