The Resonator! (From Beyond) Limited Edition Signed Giclee on Fine Art Rag Paper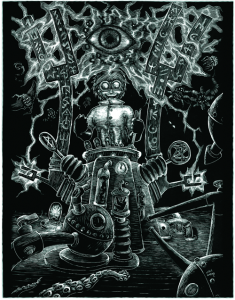 Printed area is 9 x 12 inches, with a border of 1 inches all around (print size is 11 by 14). It is printed on Acid-free watercolor-textured fine-art rag paper in archival pigment inks - and hand signed and numbered by the artist.
Only 20 of these are to be printed.
I did a number of these engravings as a set, partially as a practice run at intaglio.
They were done on Ampersand Art clayboard: an archival tempered hardboard surface coated in white clay and india ink.
Though they were all done within the span of a couple of months, this was done on a whim, Lovecraft inspired.
Updating...