The Resonator! (From Beyond) Original Engraving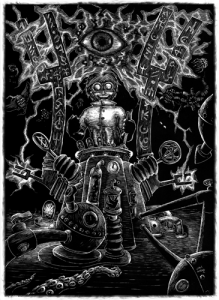 Total size Framed: 8x11, with a hand-made hardwood frame made by me.
The engraving (5x7) is in ampersand art clayboard black (thick tempered hardboard, ph neutral white clay, india ink). It is durable, and long-lasting, and highly, highly archival (some of the very oldest artworks in existence are made of clay).
It depicts H.P. Lovecraft's "Resonator" of "From Beyond!" in steampunk mad-scientist fashion.
Updating...