Books and Comics
Airships and Tentacles Coloring Book

*Reduced until 8-20-2012*
Over 30 works of art, on good paper, and in good inks for ease of coloring – printed at a huge 8.5.x11 inches (17 inches wide when open).  For a coloring book, these things are pretty huge.
I realized when I received these that this book, if not colored in, is pretty much a way to get 30 hang-able prints for under $15, but I am still making it available as a regular item in my store.
This is pretty much 75% of the black and white works for the airships and tentacles book, and a good trial run at that piece. In addition to over 30 images to color with colored pencil, I have little bits written about each artwork: My process in some cases, usage in others, just little strange fiction bits in other places – making it something to read as well as view.
For those who would like to give this book to a younger person, I made it so that the middle page could be removed, thus removing the two images that depict uncovered breasts.
You can view a web resolution PDF of the entire book here: CLICK HERE for PDF

Sale
Oh the Things You Should not Sea

A second coloring book by Myke Amend – featuring many wondrous creatures of the deepest sea, yet unseen by human eyes.
This one is much more kid-friendly, actually put together with kids completely in mind… though rather silly.
Book Size is 5.5 x 8.5 inches, with over 20 pages of coloring for colored pencil, or for crayon.
Airships and Tentacles – The Strange-Fiction Art of Myke Amend (book)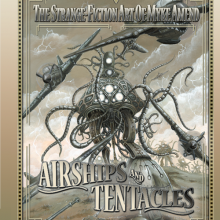 Over the past months I have been tapping away at keys, collecting scans of artworks old and new and even a lot of forgotten works, in order to make a very intensive book of my works to date.
At first, it was only going to be the Airships and Tentacles series, but I began to use "lost" artworks for section endings, and decided I should include old paintings from before the series, as well as all of those pieces I have worked on during the series as album covers, book covers, commissions, illustrations, or things I did during the series just to clear my head and work on something different. It even includes a few samplings from my-yet-to-be-published literary works, and some pieces I've done relating to the works of others (Voltaire, Clive Barker, Dexter Palmer, Bethalynne Bajema, and others), and collections of doodles and sketches to decorate text pages (such as the Table of Contents, Words from the Artist and other sections)
The book has a cover specially designed by Bethalynne Bajema from my existing artwork, and I *love* what she did with it.
This product now ships directly from the publisher unless it is ordered with prints.

Sale
Updating…