featured products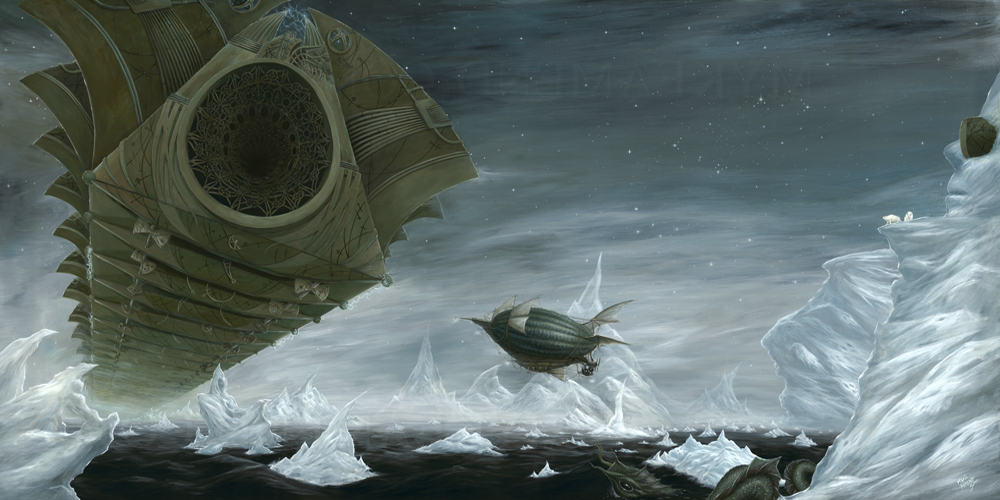 **Ships Rolled Outside of the US, stretched and Mounted Inside of the US**
This is the second painting in the strange-fiction steampunk art series "Airships and Tentacles" wherein the works of, concepts of, and influences from Jules Verne and H.P. Lovecraft intermingle.
The image was commissioned for Josh Pfeiffer of Vernian Process, and it includes the HMS Gadreel above an icy sea investigating a strange and perhaps long-forgotten and possibly alien craft. Ghostly figures twist and turn within the mists, clouds, icebergs, and waves.
These 50 giclees are printed in Epson Ultra Chrome k3 archival inks on high-quality 350 g/m2 gloss canvas. They are uv-sealed for a longevity of about 200+ years, hand-signed, and gallery-wrapped. They are documented with a hologrammed and serialized certificates of authenticity from Hahnemuhle, with a matching hologram affixed to the work.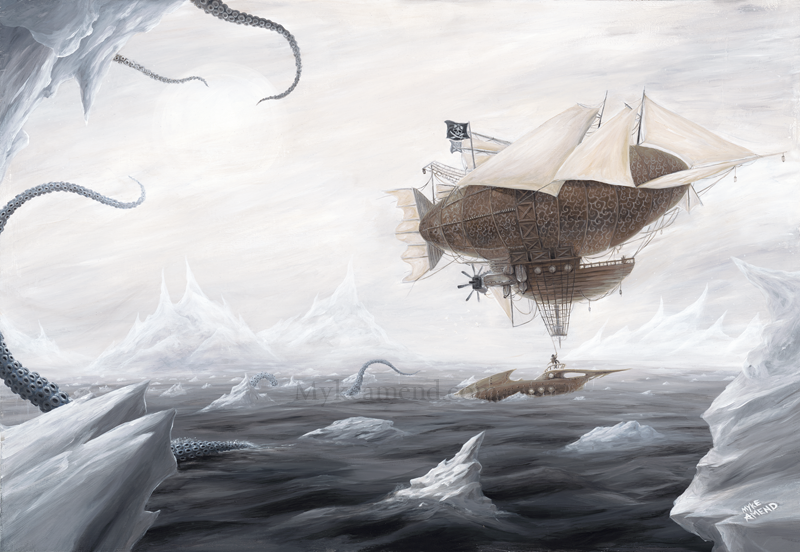 These 20 limited edition giclees, are from the first painting in the strange-fiction steampunk art series Airships and Tentacles wherein the works of, concepts of, and influences from Jules Verne and H.P. Lovecraft intermingle.
The original painting was commissioned for Robert of Abney Park, and it includes the airship: HMS Ophelia as well as a Jules Vernian submarine, some Lovecraftian influences.
These giclees are printed in archival pigment inks on high-quality high density high white-point fine art paper, for an archival rating of about 100+ years. These are hand-signed and dated, numbered from 1-20.
The first 5 sold will also have hand embellishments, i.e added painted elements, painted in acrylic paint to make each piece incredibly unique and one of a kind.
Print size is 28×19 inches, with a white border to bring them up to the standard frame size of 32×24.
The HMS Ophelia is a trademark of Abney Park.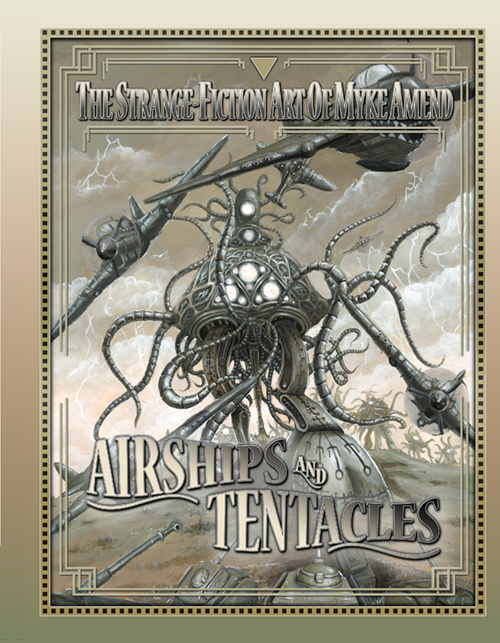 Over the past months I have been tapping away at keys, collecting scans of artworks old and new and even a lot of forgotten works, in order to make a very intensive book of my works to date.
At first, it was only going to be the Airships and Tentacles series, but I began to use "lost" artworks for section endings, and decided I should include old paintings from before the series, as well as all of those pieces I have worked on during the series as album covers, book covers, commissions, illustrations, or things I did during the series just to clear my head and work on something different. It even includes a few samplings from my-yet-to-be-published literary works, and some pieces I've done relating to the works of others (Voltaire, Clive Barker, Dexter Palmer, Bethalynne Bajema, and others), and collections of doodles and sketches to decorate text pages (such as the Table of Contents, Words from the Artist and other sections)
The book has a cover specially designed by Bethalynne Bajema from my existing artwork, and I *love* what she did with it.
This product now ships directly from the publisher unless it is ordered with prints.
Sale
Updating…