Art Originals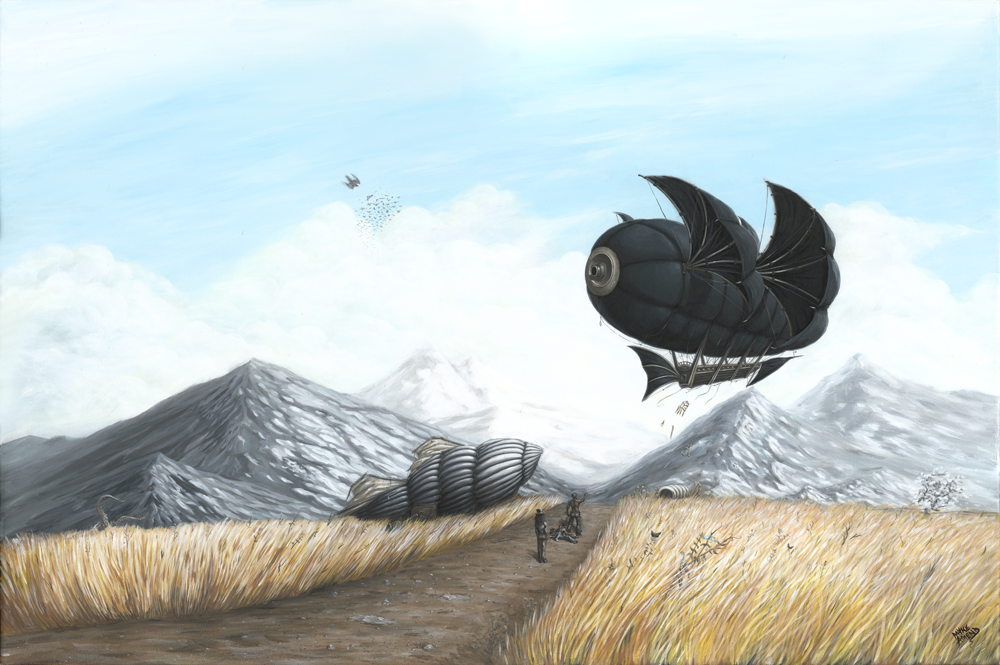 This is the eighth work in the collection Airships and Tentacles wherein Vernian and Lovecraftian influences intermingle.
The work is an illustration of a scene within Cherie Priest's novella "Clementine", which is a sequel to her novel "Boneshaker", but there are a lot of hidden things in here which have little to do with the story: a great pacific northwest prairie octopus, skulls and skeletons, and other things to make the calm and serene appearance of this piece rather deceptive.
It was painted at 36 inches by 24 inches in acrylic on canvas, and is a super-detailed piece, many details painted with a sewing needle and a single-hair brush.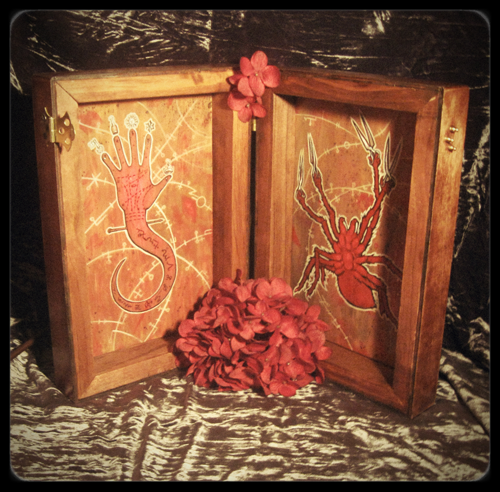 This artwork is three in one.
The box/dual frame: I labored hard for well-over a week on the box, which is a very sturdy hand-built, hand-stained, hand-varnished, hand-waxed chunk of quality hardwood (heartwood select pine base and birch sides). It not only serves as a box (if you would want to use it as such a thing), but as a self-contained double frame for both of the enclosed artworks ("Red Right Hand" and "Weaving Spiders Come Not Here") which requires no wall hanging.
The box has two decorative hinges with a decorative patina on the spine edge if it; The latching mechanism is self-made from another smaller version of these hinges, combined with three solid brass model cannons from a model ship. The latch holds the piece securely shut, but opens easily when you want it to with a slight squeeze of the box and an easy flip of the thumb.
There is a *lot* more to say about this piece, and a LOT more images of this work to see.
Closeups and more about the piece here: Red Hand Assemblage Images and Details
Sale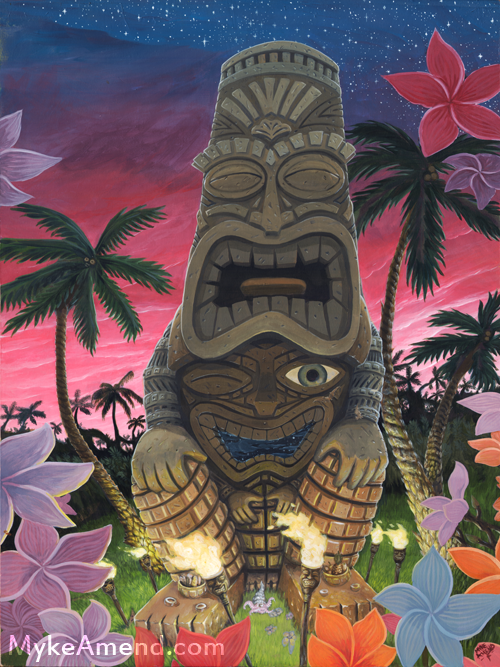 18×24 inches on wood panel, painted in acrylic on wood panel for the Freaky Tiki Lowbrow Luau at Ice Cream Gallery and Toys.
Updating…