Edge of Dreams Limited Edition 18×12 inch Metallic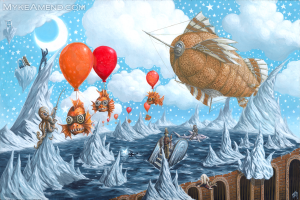 This printing is the same size as the original 18x12" painting, printed in archival pigment inks on metallic paper and with a luster coating to accent and really bring out the rich colors, hues, and detail of this vividly colored and intensely detailed work.
There are only 25 available of this stranger, happier, more whimsical dreamscape piece - One of the very last pieces from the Airships and Tentacles series before the book is complete.
Each is hand-signed by Myke Amend.
Updating...